3 Days Safari to Bwindi Impenetrable Gorilla Forest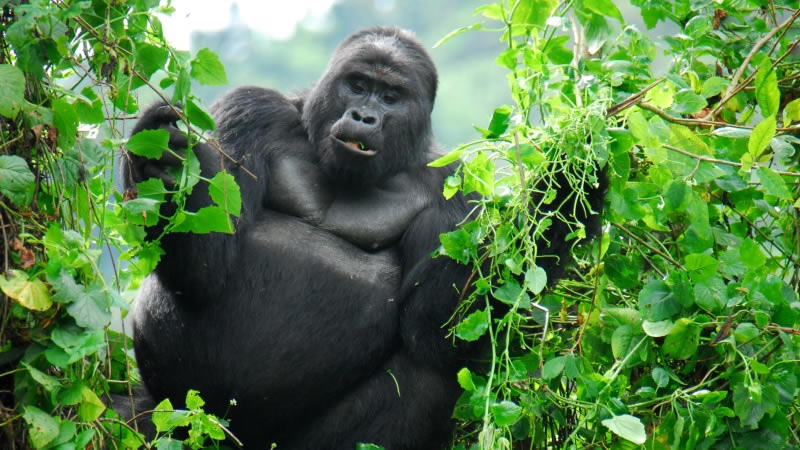 On this 3 day tour, you will get to see gorillas at the Bwindi Gorilla Rain Forest. This park and one other in Rwanda are some of the rare habitats for the gorillas.
Day 1: Kampala – Bwindi Gorilla Forest
Depart from Kampala by road and head south-West to Bwindi Impenetrable National Park. You will have a short stop at the Equator an informative talk as well as a photographic opportunity. We will continue to Mbarara where were we will stop for lunch. Your drive will take you through Uganda rolling green hills through the highlands, also known as the 'Switzerland of Uganda'. Your road will then head even higher to where you can see the triangular peaks of the Virunga volcanoes of Rwanda and the Congo. We then drop down into a valley, to Bwindi Impenetrable Forest, home of the mountain gorilla. Tonight you will sleep to the sounds of the mountain rainforest. Accommodation: Gorilla Safari Lodge Meals & drinks: Lunch & dinner (Breakfast not included)
Day 2: Mountain Gorilla Tracking in Bwindi
Up relatively early for a hearty breakfast to give you the energy needed for gorilla tracking. Before 8:00 am report to the ranger station for registration and a talk by one of the rangers; the guides will then take you through the bush pushing your way through the undergrowth, parting thick creepers, to track the gorillas. (This trek can take from half an hour to 5 hours – a reasonable degree of fitness is required as well as a sturdy pair of walking shoes) Sit in the forest among the gorillas, listening to them grumble to each other, and marvel at the sheer size of the dominant male; the silverback.
It is an extraordinary feeling sitting in the dense rainforest knowing you are with a few of the last remaining mountain gorillas. It's amazing to think there are only about 650 of these beautiful creatures left!
If you have the energy this afternoon, take a guided walk on the Munyaga River trail, which is an ideal short walk. This trail leads to three delightful crystal clear waterfalls, and there is a profusion of tree ferns, epithytic ferns, orchids and Bwindi's colorful array of butterflies. Here you may also see birds and primates from the forest edge. If you have the afternoon free, how about a guided village walk – see how the Ugandans live! Accommodation: Gorilla Safari Lodge Meals & drinks: All Meals
Day 3: Bwindi Gorilla Forest
After a morning breakfast, we will return back to Kampala stopping en-route for lunch arriving in the early evening. Meals & drinks: Breakfast and Lunch
Book Now