4 Days Ngorongoro Olduvai Gorge Serengeti Safari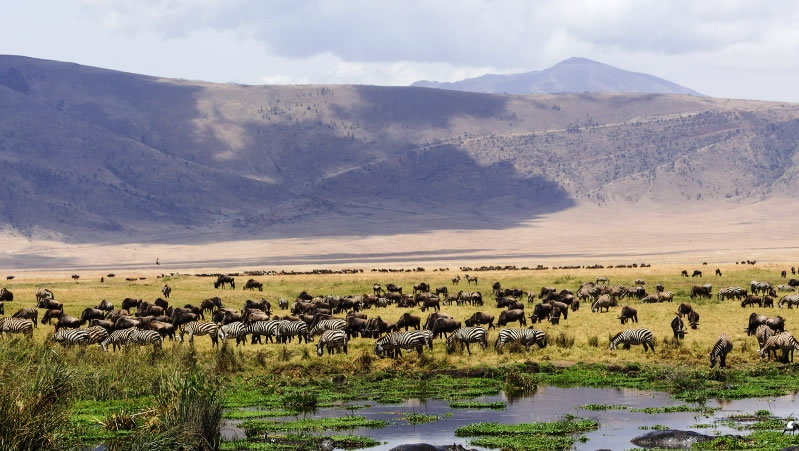 Explore some of Tanzania's best tourist destinations - the Olduvai Gorge, the Serengeti plains & the Ngorongoro crater
Day 1: Ngorongoro Crater
Depart Arusha in the morning and drive to Ngorongoro Conservation Area arriving in time for lunch. After lunch descend into the crater floor for an afternoon crater tour. The jewel in Ngorongoro's crown is a deep volcanic crater which supports a large resident population of wildlife. The Crater is one of the world's greatest natural spectacles; its magical setting and abundant wildlife never fail to enthrall visitors. Dinner and overnight at Ngorongoro wildlife lodge
Day 2.Ngorongoro Game Trip
The crater is one of the most impressive wildlife areas in Africa and has been designated a World Heritage site. In the morning after a sumptuous breakfast, you will drive down inside the 100 square mile Ngorongoro crater to view wildlife on the vast grasslands of the crater floor. Throughout the year a spectacular parade of animal life may be found within the crater. You are very likely to see black manned lion, the highly endangered black rhino, wildebeest, zebra, elephant, hippo, jackal, and hyena. The birdlife is prolific with flocks of flamingoes on the soda lake as well as other species of water and plains birds. Dinner and overnight at your lodge.
Day 3: Olduvai Gorge & Serengeti
After breakfast, leave Ngorongoro crater heading for the endless plains of Serengeti. Enjoy a short stop at Olduvai Gorge; the famous archeological site where the Leakey's discovered remains of Australopithecus Homo habilis and Homo erectus. After visiting the site and the small museum there, proceed on to central Serengeti for lunch at the lodge. The Serengeti is arguably the most impressive wildlife sanctuary in the world. At certain times of the year these vast, seemingly unending plains, are inhabited by enormous herds of wildebeest and zebra. Enjoy an afternoon game drive thereafter, returning to the lodge for dinner and overnight at your lodge.
Day 4: Serengeti Game Drive
An early morning game drive in Serengeti is followed by breakfast at your lodge. Depart Serengeti for Lake Manyara with more game viewing en-route. Dinner and overnight at the lodge located on top of the escarpment overlooking the Lake below. Dinner and overnight at your Lodge.
Book Now