5 Days Lake Manyara Ngorongoro Tarangire Safari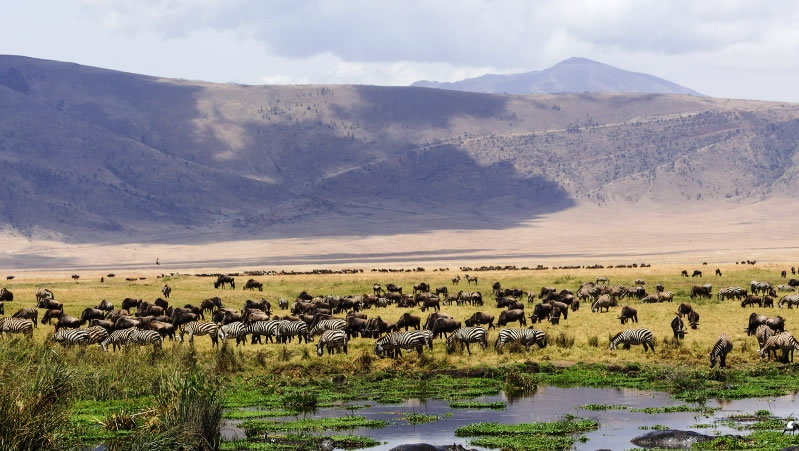 Day 1: Arusha – Lake Manyara
Today you will have breakfast and then drive from Arusha to Lake Manyara National Park. You will arrive in time for lunch. After lunch you will go for a game drive in the park. Dinner and overnight at the lodge
Day 2: Full day game viewing
After breakfast you will go for an early morning game drive where you will spot animals like Leopards, Lions, hippos, impalas, elephants, wildebeests, buffalo, warthogs, giraffes, baboons, zebras, blue monkeys, dik-dik, gazelle and hippos and birds like pelicans, cormorants, storks, Flamingos, and cormorants. In the afternoon after lunch you may go cultural tour or you can go canoeing or take a community walk. Dinner and overnight at the lodge
Day 3: Lake Manyara National Park – Ngorongoro Crater
After breakfast you will drive to Ngorongoro National park. After arrival you will have lunch and later go for an afternoon game drive to the crater for a game drive. Ngorongoro national park is a world heritage site, it's located in Ngorongoro District and the world's largest intact volcanic caldera lies with in this conservation area. It was formally part of Serengeti national park. It's a home to over 500 bird species, 25,000 large animals, which live in the montane forest, grassland, and bush land with bussei trees, open grassland, wood land, Munge Stream, Lerai Stream, Ngoitokitok Spring, and many other small springs around the crater's floor.
During the game drive you will spot animals like cheetah, lion, black rhinoceros, hippopotamus, wildebeest the zebra the eland, Grant's and Thompson's gazelles, leopards, elephants, mountain reedbuck, and buffalo, wildebeest, hartebeest, waterbuck, warthog, hyena and jackals. Primates include baboons and vervet monkeys. During the game drive you might spot some birds which include ostrich, bizarre secretary, black eagles, secretary bird, Kori bustard, crowned crane, marabou stork, martial eagle, lovebirds, bustards and plovers, European migrants from November to May include White Storks, swallows, Yellow Wagtails among others, Stonechat, Schalow's Wheatear, Anteater Chat, Fiscal Shrike, Augur Buzzards, Verreaux's Eagle and flamingoes, Later return to the lodge for dinner and overnight stay.
Day 4: Ngorongoro to Tarangire National Park
After breakfast you will drive to Tarangire national park. The park is home to over 500 bird species and various animals which live in the acacia and mixed woodland vegetation, baobab trees and old palm, black cotton grass Baobab trees, dense bush and high grasses.
On arrival you will go for a game drive where you will spot animals like the wildebeest, elephants, zebras, and hartebeest, giraffes, Impala, Eland, lesser kudu, waterbuck, gazelle rhinos, leopards, giant pythons, Thompson's gazelle, greater and lesser kudu, cheetah, oryx and generuk, tree climbing lions, birds like Kori bustard, stocking-thighed ostrich, ground hornbills, colourful yellow-collared lovebird, drabber rufous-tailed weaver ,ashy starling ,dwarf mongoose, and pairs of red-and-yellow barbet may be spotted too. Dinner and overnight at the lodge
Day 5: Tarangire to Arusha
Breakfast and then drive back to Arusha